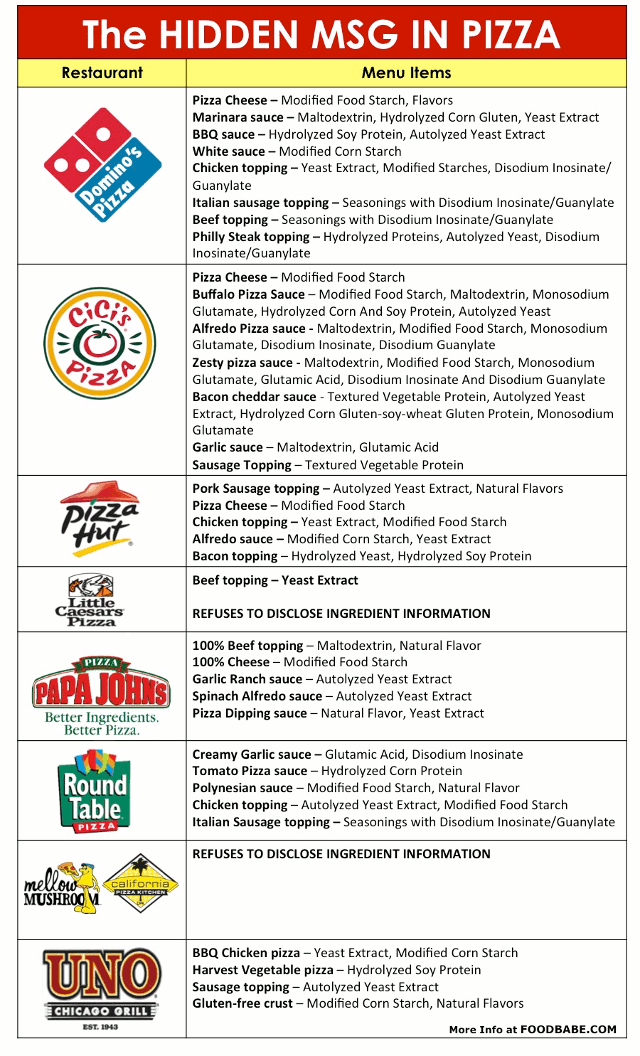 I love pizza! Its one of my top favorite foods next to kale and cake. And I know Im not the only one that loves it, either. Recently, the USDA conducted a study which revealed the enormous amount of pizza we consume in the United States. American consumption of cheese increased by nearly 30% in 10 years because the dairy industry is spending big bucks to promote pizza and partner with big chains like Dominos. Congress even voted to declare pizza a vegetable in the school lunch program. The government wants us to eat pizza a lot of it. But theres a lot going on behind closed doors that nobody wants us to know or talk about, and it all starts with the ingredients.
Toxic hidden MSG ingredients buried in popular pizza menu items:
Autolyzed Yeast Extract (Hidden MSG)
Textured or Hydrolyzed Proteins (Hidden MSG and GMO)
Hydrolyzed Corn (Hidden MSG and GMO)
Modified Starches (Hidden MSG or Possible GMO)
Natural Flavors (Possible Hidden MSG)
Disodium Inosinate or Disodium Guanylate (MSG enhancers)
The additives Disodium Guanylate and Disodium Inosinate are not added to a product that doesnt contain MSG because they are considered expensive additives that are ineffective without MSG ingredients. The presence of Disodium Guanylate or Disodium Inosinate in a product is a strong indication that a product contains hidden MSG.
Read If Youve Ever Eaten Pizza Before, This Will Blow Your Mind (Maybe Literally)