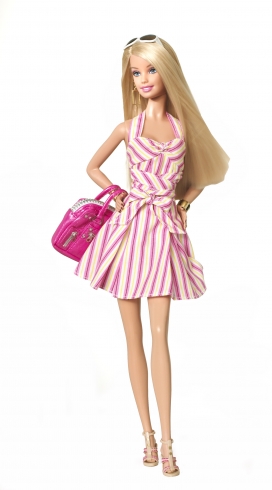 Growing up, you wanted to have her, play with her, even look alike. Maybe you still secretly dream of her modelesque figure and carefree lifestyle, where running around in swimsuits surrounded by muscular men is a daily routine. Yup, Barbie is, arguably, the most famous toy in the industry. But could Barbie possibly exist in the real world?
Artist Nickolay Lamm answers: no. He created a 3D printed model based on average American 19-year-old woman. The difference between his model and the mass-production Barbie doll was shocking!
If you are wondering how a white, 3D printed image began to resemble the real-life Barbie Lamm compared his version to, Photoshop is the culprit. Lamm would like to eventually put together a real-life version of the correctly proportioned doll, but according to the Los Angeles Times, the 24-year-old would have to rebrand the doll and make it look different so that Mattel doesnt sue (him) for a million dollars. The young man says he would like to go to Kickstarter to get his idea off of the ground. See more at: http://www.cinemablend.com/pop/Artist-Creates-Barbie-Doll-With-Proportions-Real-Woman-57291.html#sthash.RBR6WVUc.dpuf
See The Pictures of Barbie Doll Based On Real Womans Proportions. The Difference Is Uncanny!